November 11, 2021
Performance Max campaigns were announced in October of 2020 by Google and were in beta phase for a year. In November, the campaigns have started to roll out to all advertisers.
Today, we're talking about Performance Max campaigns. What they are, how to set them up, and the insights you can get from them.
What Are Performance Max Campaigns?
Performance Max campaigns are 'a new way to buy Google ads across YouTube, Display, Search, Discover, Gmail and Maps from a single campaign.'
Previously, what took the Google inventory several campaign types to reach, can now all be targeted through this singular campaign type.
This campaign type is entirely automated, and most of the grunt work goes into the setup. Afterwards, all the legwork is done by Google Ads.
Performance Max Vs Smart Shopping
If you are targeting the same products through Performance Max and Smart/Standard Shopping campaigns, Google will prioritize the Performance Max campaign when it comes to serving the ads. Similar to Smart Shopping, the priority settings don't make a difference.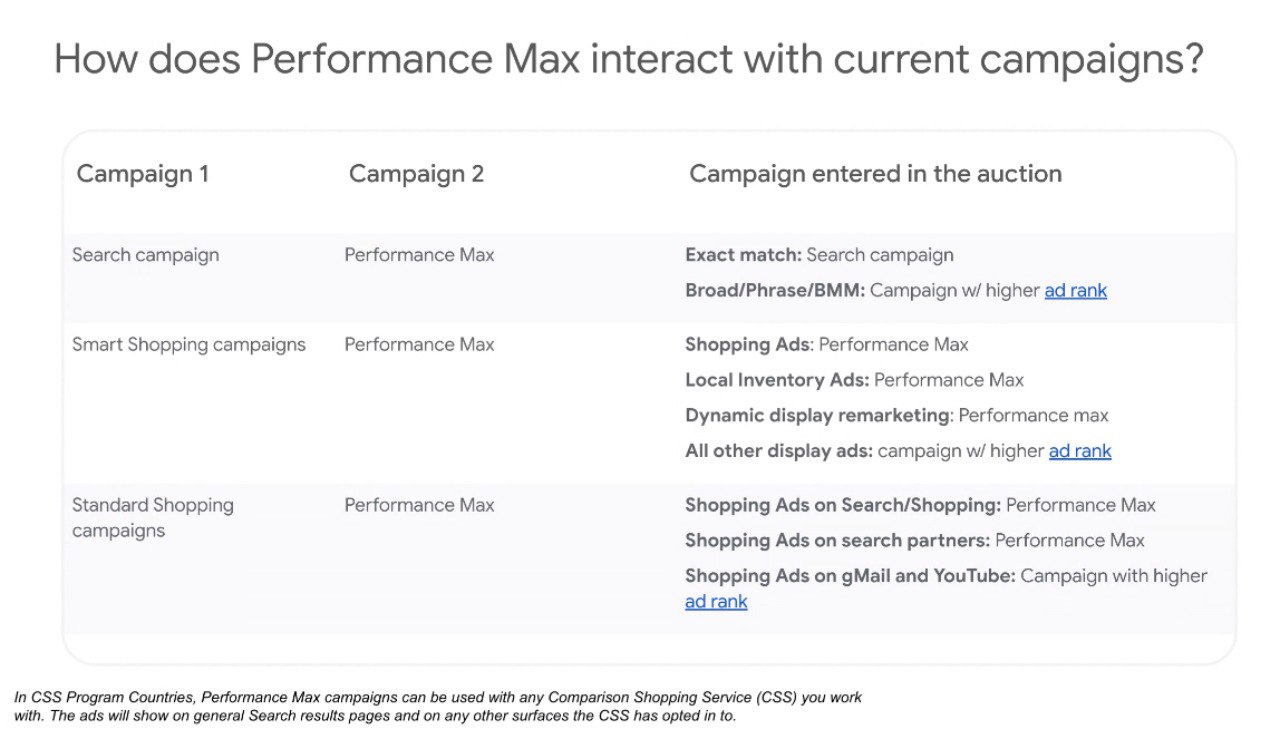 Smart Shopping/Local Campaign Migration To Performance Max
According to Google, Smart Shopping and Local campaigns will both be upgraded to Performance Max campaigns from July to September. During these months, Google will automatically upgrade your Smart/Local Shopping campaigns for you. So, if you are using either of these campaign types, now is a good time to test out Performance Max!
"You will no longer be able to create new Smart Shopping and Local campaigns once your existing campaigns are automatically upgraded. The automatic upgrade process will conclude by the end of September to ensure you're well prepared to use Performance Max for the 2022 holiday season."
Starting in April, Google will have a 'one-click' tool to upgrade Smart Shopping campaigns to Performance Max. This tool will be available in June for Local campaigns.
How to set up your first Performance Max campaign?
Click on the "+" sign in the campaign section, as you normally would for creating any campaign.
After that, choose an appropriate campaign goal. Be aware that Performance Max is not available for all goal types. The campaign type will only show if your goal is "Sales", "Leads", "Website traffic" or "Local store visits and promotions".
You can also choose 'Create a campaign without a goal's guidance' to access this campaign type.
Campaign Settings
After choosing Performance Max campaign, you will have to select the conversion goals that you want the campaign to optimize towards. All your primary conversion goals will be displayed and automatically selected. If you see a goal that you don't want your campaign to optimize for, you can remove it.
If you are an e-commerce store, you will get the option to select your Product Feed next. This feed will be used to create your Shopping ads.
Budget & Bidding
Next, you will set your daily budget and select your bidding strategy. You are only given the option to choose between two bidding strategies: Maximize conversions and Maximize conversion value. You can also add a target CPA or target ROAS depending on which bidding strategy you have chosen.
After that, you will get the option to choose your target locations and languages.
More Settings
If you click on 'More settings', you will get further options. You can set an ad schedule of your preference, choose a start and end date, and add a tracking template in 'Campaign URL options' setting.
Final URL Expansion
One of the most important levers for your Performance Max campaign is hidden under 'More Settings'. It's the option of 'Final URL expansion' and the default setting is 'On'. The way this option works is similar to a Dynamic Search Ads group. If you have set it to be on, Google uses your entire website and shows customers ads according to what they are searching.
This option can be useful if your website is completely optimized for conversions on every single page (which is rare). So, if your website has URLs that you don't want to target (for example, blog, FAQ, about us), you can exclude them.
You can run your Performance Max campaigns for only specific pages on your website, by switching this setting off. Then, you can just choose the option of sending traffic to provided URLs only. If you provide several services, but only want to advertise a selected few through Performance Max, this option will help you select the URLs you want to target.
Next, you will be taken to set up your 'Asset Group'.
Asset Groups
This term is specific to Performance Max campaigns and you won't find Asset Groups in any other campaigns.
The way an asset group works is similar to a Responsive Search ad or a Responsive Display ad. In RSAs/RDAs, you provide Google with assets and it combines those assets to create an ad for you. Within Asset Groups, you also have to provide Google with a target audience that you want Google to use to find new customers.
Asset Group require you to add a Final URL, Images, Logos, Videos, Headlines, Long Headlines, Descriptions, Call-To-Action, and Business Name. In case you do not have a video, you don't have to upload one. Google will just use your other assets to create a video for you. Keep in mind that the video may not be on-brand. Uploading a video is better than letting Google create it for you.
If you go into 'More Options', you can also add HTML5 assets and Display Paths.
In the Final URL option, if you have URL expansion switched on, then the URL you have chosen might be replaced with 'a more relevant landing page and headline, based on customer intent.' 
You will also have to choose your 'Listing Group'. This is similar to your 'Product Group' in Shopping campaigns. The default setting is 'All Products', however, if you want your campaign to target specific products only, you can add a subdivision and only target those products.
Next, you have to provide Google with 'Audience Signals'.
Audience Signals
This is another new term that is specific to Performance Max campaigns.
It is an incredibly important lever as Audience Signals are a way of telling Google which customers are likely to convert. A signal can include your remarketing lists and your customer data, custom segments, demographics, and interest & detailed demographics, which includes life-events, in-market and affinity segments.
This is a way of creating a target persona for Google. That way, it may find customers similar to what you have provided.
After your Asset Group is ready, you will have to create extensions for your campaign.
Extensions
You can use Account extensions or create campaign-level extensions.
You are given the option of creating Callout, Call, lead form, structured snippets, price, promotion, and location extensions.
Once you have completed this part of the setup, you will have to review your entire campaign setup. Google will notify you of what is missing from your setup, if you should have forgotten a component.
After making sure the information you have provided is correct, you can publish the campaign.
Reporting
The biggest drawback about Performance Max campaigns is how limited the reporting is. You don't get to see what search terms your ads are showing on, what ads have the best conversion rate, or even how the extensions are performing.
The most insight you get from Google is the ad strength and what ad combinations are your top performers.
Google has recently introduced reporting on an item ID level for listing groups:
You can see which of your specific products are getting impressions and clicks, the amount you are spending on those products, and the number of sales you are getting.
This level of reporting can help you figure out which products to advertise and which products aren't profitable in a Performance Max campaign.
Google has also introduced a placement report for your Performance Max campaigns. To access the report, click on 'Reports' in the toolbar at the top, then go to Predefined Reports > Other > Performance Max campaigns placement:
The only metric you can see for placements is the number of impressions. Right now, no other metrics can be viewed.
Final Thoughts
While this is a huge drawback, don't let this limit you from testing out a Performance Max campaign in your account. Especially if you use Smart Shopping and Local campaigns! It is better to test the campaign out now and figure out what works instead of being forced into adoption by Google Ads.